Rayuela Productions est une boîte de production audiovisuelle basée à Bruxelles. Notre but est de faire émerger des visions nouvelles et multiplier les angles de vues. Rayuela, c'est le titre d'un roman écrit par Julio Cortázar, grand écrivain argentin né à Bruxelles, éduqué en Argentine et exilé à Paris. Figure emblématique du boom littéraire latino, Cortázar a conçu Rayuela comme une œuvre multi-facettes qui se lit linéairement jusqu'au chapitre 56 et ensuite dans l'ordre désiré par le lecteur. Cortázar aimait à parler de lecteur « complice ». Rayuela Productions s'adresse, elle aussi, dans sa démarche créative, à un public actif, qui participe à la construction du récit et à qui il est donc laissé l'espace de liberté suffisant pour le faire.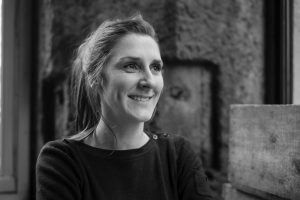 Rayuela Productions  a été créée par Laurence Buelens en 2014. Laurence est née à Bruxelles en 1981. Après des études de journalisme à l'IHECS, elle poursuit un programme post-universitaire en politique internationale, à l'Université Libre de Bruxelles. Elle commence sa carrière professionnelle comme journaliste dans la presse écrite pour s'orienter vers la production audiovisuelle à partir de 2010. En 2013, elle complète sa formation en Argentine avec une maestria en cinéma documentaire à l'Université du Cinéma de Buenos Aires. A son retour, elle lance Rayuela Productions pour offrir ses services comme productrice indépendante et développer des projets documentaires ou de fiction.
A Buenos Aires, « Rayuela »  se prononce « Rajouéla », voire « Rachouéla ». Un enchantement pour les oreilles…
***
Rayuela Productions is a young Brussels based production company. Our aim is to produce films that multiply the viewpoints and let new visions emerge within the public. Just like the Argentinian writer Julio Cortázar did with its masterpiece that inspired our name…
Rayuela Productions was created by Laurence Buelens in 2014. Laurence was born in Brussels in 1981. She studied journalism and international politics. She started her career as print media journalist, then she turned towards audiovisual production in 2010. In 2013, she travelled to Argentina to study documentary film at the Cinema University of Buenos Aires. Upon her return, she created Rayuela Productions to offer her services as a freelance producer and develop documentary or feature films projects.
In Buenos Aires, you pronounce my name Rashoo-elah, such a sweet melody…